Abstract
Aging is a major driving force underlying dementia, such as that caused by Alzheimer's disease (AD). While the idea of targeting aging as a therapeutic strategy is not new, it remains unclear how closely aging and age-associated diseases are coupled at the molecular level. Here, we discover a novel molecular link between aging and dementia through the identification of the molecular target for the AD drug candidate J147. J147 was developed using a series of phenotypic screening assays mimicking disease toxicities associated with the aging brain. We have previously demonstrated the therapeutic efficacy of J147 in several mouse models of AD. Here, we identify the mitochondrial α-F1 -ATP synthase (ATP5A) as a target for J147. By targeting ATP synthase, J147 causes an increase in intracellular calcium leading to sustained calcium/calmodulin-dependent protein kinase kinase β (CAMKK2)-dependent activation of the AMPK/mTOR pathway, a canonical longevity mechanism. Accordingly, modulation of mitochondrial processes by J147 prevents age-associated drift of the hippocampal transcriptome and plasma metabolome in mice and extends lifespan in drosophila. Our results link aging and age-associated dementia through ATP synthase, a molecular drug target that can potentially be exploited for the suppression of both. These findings demonstrate that novel screens for new AD drug candidates identify compounds that act on established aging pathways, suggesting an unexpectedly close molecular relationship between the two.
Full text access
Goldberg J, Currais A, Prior M, Fischer W, Chiruta C, Ratliff E, Daugherty D, Dargusch R, Finley K, Esparza-Moltó PB, Cuezva JM, Maher P, Petrascheck M, Schubert D. Aging Cell. 2018 Apr;17(2). doi: 10.1111/acel.12715. Epub 2018 Jan 7. PubMed PMID: 29316249; PubMed Central PMCID: PMC5847861.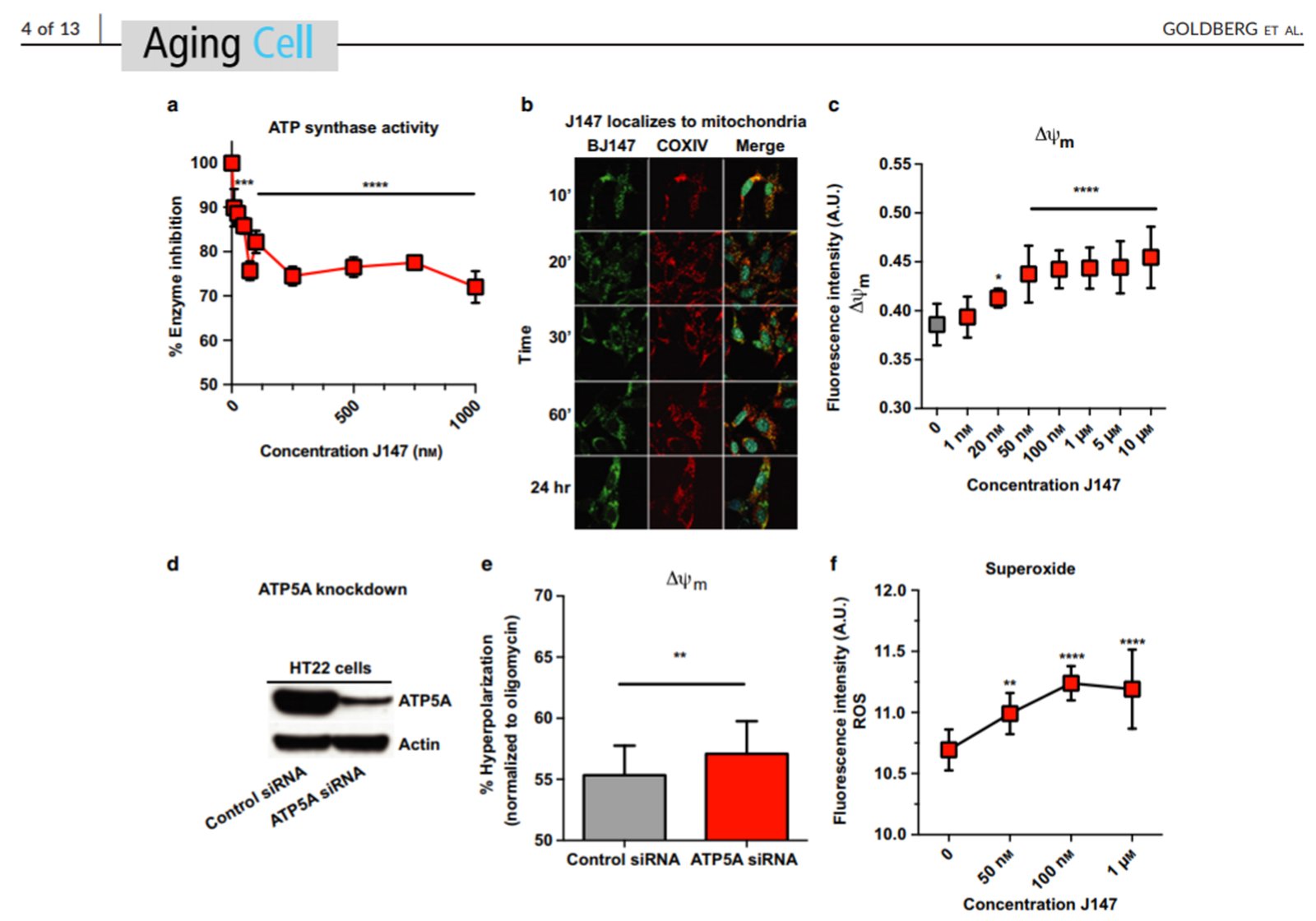 Keywords: ATP synthase, Alzheimer's disease, aging, dementia, metabolism, mitochondria, mitochondrial ATP synthase, neurodegeneration.
Join for free INPST as a member
The International Natural Product Sciences Taskforce (INPST) maintains up-to-date lists with conferences, grants and funding opportunities, jobs and open positions, and journal special issues with relevance for the area of phytochemistry and food chemistry, pharmacology, pharmacognosy research, and natural product science.
Apply for the INPST 2018 Science Communication Award (Gold: 2000 USD / Silver: 1000 USD / Bronze: 500 USD)