"It is the most important Position Paper from the International Lipid Expert Panel (ILEP). Following our recent recommendations on the lipid-lowering properties of some nutraceuticals we decided to check whether nutraceuticals might be useful in the group of patients with statin intolerance, patients at high and very high cardiovascular risk, which require significant LDL-C lowering with all available methods (not suitable doses of statins [taking into account their risk] in case of partial statin intolerance, ezetimibe, fibrates, PCSK9 inhibitors [as only they are available and reimbursed], including potent lipid-lowering nutraceuticals. We showed that some of them should be indeed considered, especially in the combinations as well as as an add-on to ezetimibe (or small doses of statins) as they might reduce LDL-C even by 40%. Thank you for all #ILEP members!" Maciej Banach, June, 2018.
Abstract
Statins are the most common drugs administered for patients with cardiovascular disease. However, due to statin-associated muscle symptoms, adherence to statin therapy is challenging in clinical practice. Certain nutraceuticals, such as red yeast rice, bergamot, berberine, artichoke, soluble fiber, and plant sterols and stanols alone or in combination with each other, as well as with ezetimibe, might be considered as an alternative or add-on therapy to statins, although there is still insufficient evidence available with respect to long-term safety and effectiveness on cardiovascular disease prevention and treatment. These nutraceuticals could exert significant lipid-lowering activity and might present multiple non–lipid-lowering actions, including improvement of endothelial dysfunction and arterial stiffness, as well as anti-inflammatory and antioxidative properties. The aim of this expert opinion paper is to provide the first attempt at recommendation on the management of statin intolerance through the use of nutraceuticals with particular attention on those with effective low-density lipoprotein cholesterol reduction.
Full text
Banach M, Patti AM, Giglio RV, Cicero AFG, Atanasov AG, Bajraktari G, Bruckert E, Descamps O, Djuric DM, Ezhov M, Fras Z, von Haehling S, Katsiki N, Langlois M, Latkovskis G, Mancini GBJ, Mikhailidis DP, Mitchenko O, Moriarty PM, Muntner P, Nikolic D, Panagiotakos DB, Paragh G, Paulweber B, Pella D, Pitsavos C, Reiner Ž, Rosano GMC, Rosenson RS, Rysz J, Sahebkar A, Serban MC, Vinereanu D, Vrablík M, Watts GF, Wong ND, Rizzo M; International Lipid Expert Panel (ILEP). The Role of Nutraceuticals in Statin Intolerant Patients. J Am Coll Cardiol. 2018 Jul 3;72(1):96-118. doi: 10.1016/j.jacc.2018.04.040. Review. PubMed PMID: 29957236.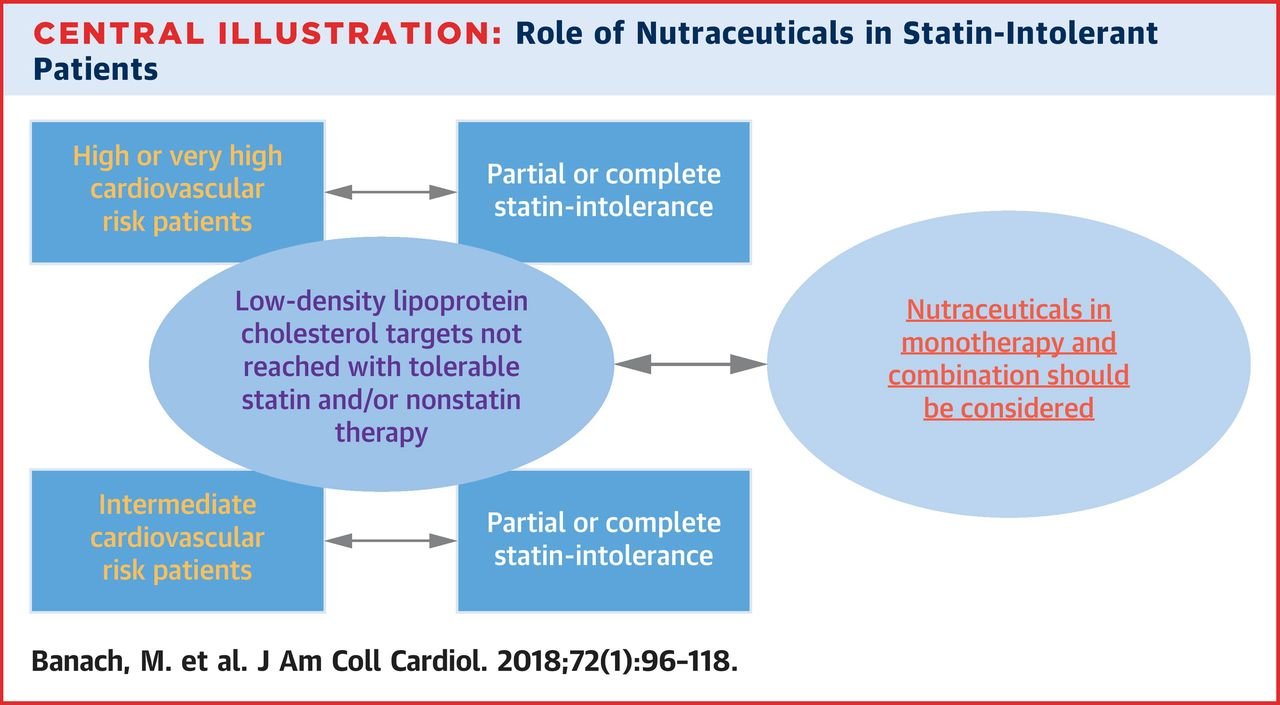 Keywords: Antioxidants, Berberine, Biological Markers, Cholesterol, LDL, Consensus, Dietary Supplements, Dyslipidemias, Fatty Acids, Omega-3, Fibric Acids, Hydroxymethylglutaryl-CoA Reductase Inhibitors, Lipids, Niacin, Primary Prevention, Risk Factors, Subtilisins, Vascular Diseases, Vascular Stiffness.
Join for free INPST as a member
The International Natural Product Sciences Taskforce (INPST) maintains up-to-date lists with conferences, grants and funding opportunities, jobs and open positions, and journal special issues with relevance for the area of phytochemistry and food chemistry, pharmacology, pharmacognosy research, and natural product science.
Apply for the INPST 2018 Science Communication Award (Gold: 2000 USD / Silver: 1000 USD / Bronze: 500 USD)