Abstract
Nonalcoholic fatty liver disease (NAFLD) is the most prevalent liver disease worldwide, and there is no approved pharmacotherapy. The efficacy of vitamin E and pioglitazone has been established in nonalcoholic steatohepatitis (NASH), a progressive form of NAFLD. GLP-1RA and SGLT2 inhibitors, which are currently approved for use in diabetes, have shown early efficacy in NASH, and also have beneficial cardiovascular or renal effects. Innovative NASH therapies include four main pathways. The first approach is targeting hepatic fat accumulation. Medications in this approach include modulation of peroxisome proliferator-activator receptors (e.g., pemafibrate, elafibranor), medications targeting farnesoid X receptor axis [obeticholic acid; OCA)], inhibitors of de novo lipogenesis (aramchol, ACC inhibitor), and fibroblast growth factor-21 analogues. A second target is oxidative stress, inflammation, and apoptosis. This class of drug includes apoptosis signaling kinase 1 (ASK1) inhibitor and emricasan (an irreversible caspase inhibitor). A third target is intestinal microbiomes and metabolic endotoxemia. Several agents are in ongoing trials, including IMMe124, TLR4 antagonist, and solithromycin (macrolide antibiotics). The final target is hepatic fibrosis, which is strongly associated with all-cause or liver-related mortality in NASH. Antifibrotic agents are a cysteine-cysteine motif chemokine receptor-2/5 antagonist (cenicriviroc; CVC) and galectin 3 antagonist. Among a variety of medications in development, four agents such as OCA, elafibranor, ASK1 inhibitor, and CVC are currently being evaluated in an international phase 3 trial for the treatment of NASH. Within the next few years, the availability of therapeutic options for NASH will hopefully curb the rising trend of NASH-related diseases.
Full text access
Sumida Y, Yoneda M. Current and future pharmacological therapies for NAFLD/NASH. J Gastroenterol. 2018 Mar;53(3):362-376. doi: 10.1007/s00535-017-1415-1. Epub 2017 Dec 16. Review. PubMed PMID: 29247356; PubMed Central PMCID: PMC5847174.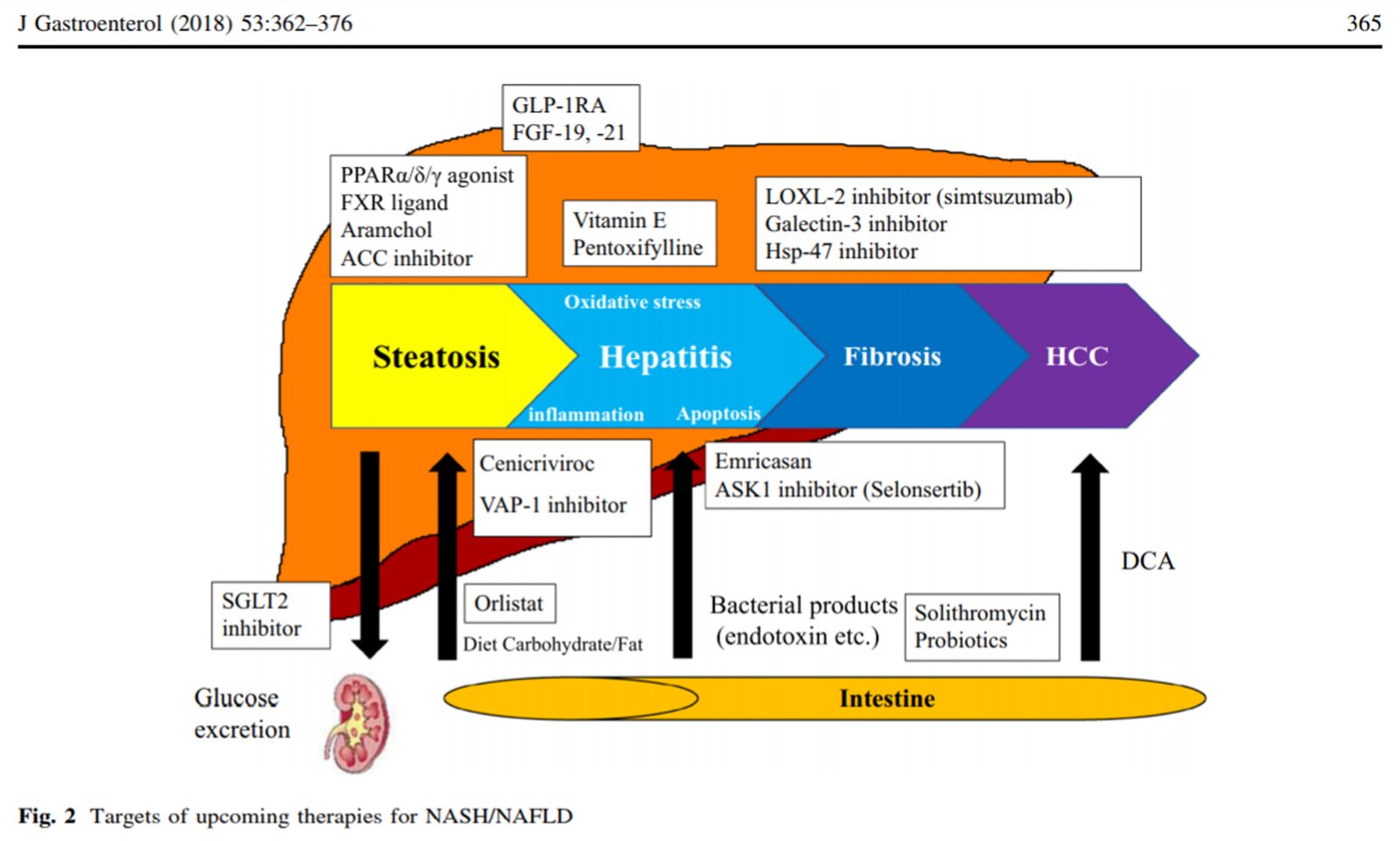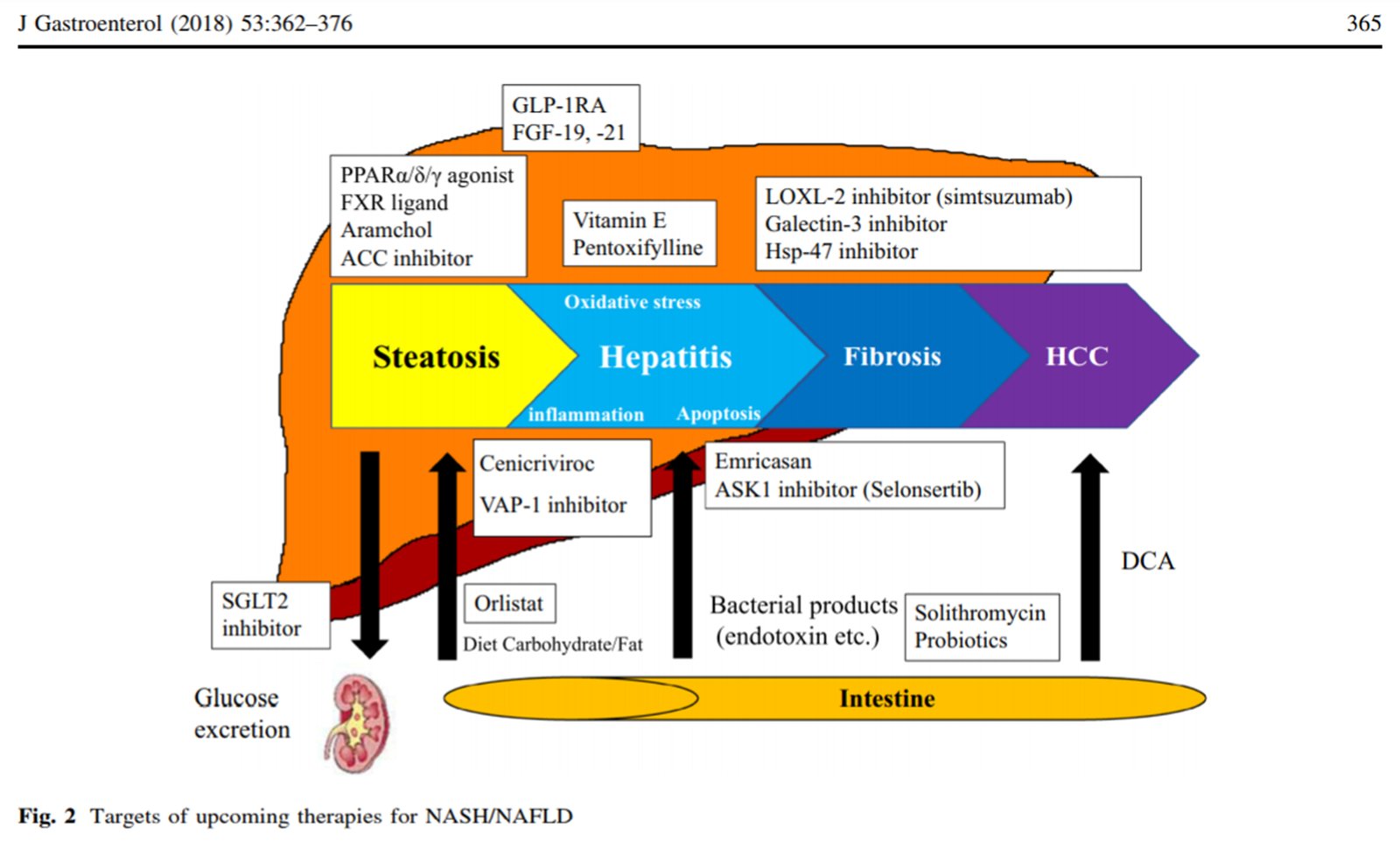 Keywords: diabetes; cysteine-cysteine motif chemokine receptor-2/5 antagonists bioactivities; GLP-1 receptor agonist; hepatic fibrosis; NASH; SGLT2 inhibitor; NAFLD; pharmacotherapy; GLP-1RA; peroxisome proliferator-activator receptors; farnesoid X receptor; fibroblast growth factor-21; ASK1; TLR4 antagonists; cysteine-cysteine motif chemokine receptor-2/5 antagonists; galectin 3 antagonists.
Join for free INPST as a member
The International Natural Product Sciences Taskforce (INPST) maintains up-to-date lists with conferences, grants and funding opportunities, jobs and open positions, and journal special issues with relevance for the area of phytochemistry and food chemistry, pharmacology, pharmacognosy research, and natural product science.
Apply for the INPST 2018 Science Communication Award (Gold: 2000 USD / Silver: 1000 USD / Bronze: 500 USD)