Abstract:
Non-communicable diseases (NCDs) have become the largest contributor to worldwide morbidity and mortality. Among them, cancer and cardiovascular diseases (CVDs) are responsible for a 47% of worldwide mortality. In general, preventive approaches modifying lifestyle are more cost-effective than treatments after disease onset. In this sense, a healthy diet could help a range of NCDs, such as cancer and CVDs. Traditional Mediterranean Diet (MD) is associated by the low-prevalence of certain types of cancers and CVDs, where olive oil plays an important role. In fact, different epidemiological studies suggest that olive oil consumption prevents some cancers, as well as coronary heart diseases and stroke incidence and mortality. Historically, the beneficial health effects of virgin olive oil (VOO) intake were first attributed to the high concentration of monounsaturated fatty acids. Nowadays, many studies indicate that phenolic compounds contained in olive oil have positive effects on different biomarkers related to health. Among them, phenolic compounds would be partially responsible for health benefits. The present work aims to explore, in studies published during the last five years, the effects of the main phenolic compounds isolated from olive oil on different cancer or CVD aspects, in order to clarify which compounds have more potential to be used as nutraceuticals with preventive or even therapeutic properties.
Reference:
Reboredo-Rodríguez P, Varela-López A, Forbes-Hernández TY, Gasparrini M, Afrin S, Cianciosi D, Zhang J, Manna PP, Bompadre S, Quiles JL, Battino M, Giampieri F. Phenolic Compounds Isolated from Olive Oil as Nutraceutical Tools for the Prevention and Management of Cancer and Cardiovascular Diseases. Int J Mol Sci. 2018 Aug 6;19(8). pii: E2305. doi: 10.3390/ijms19082305.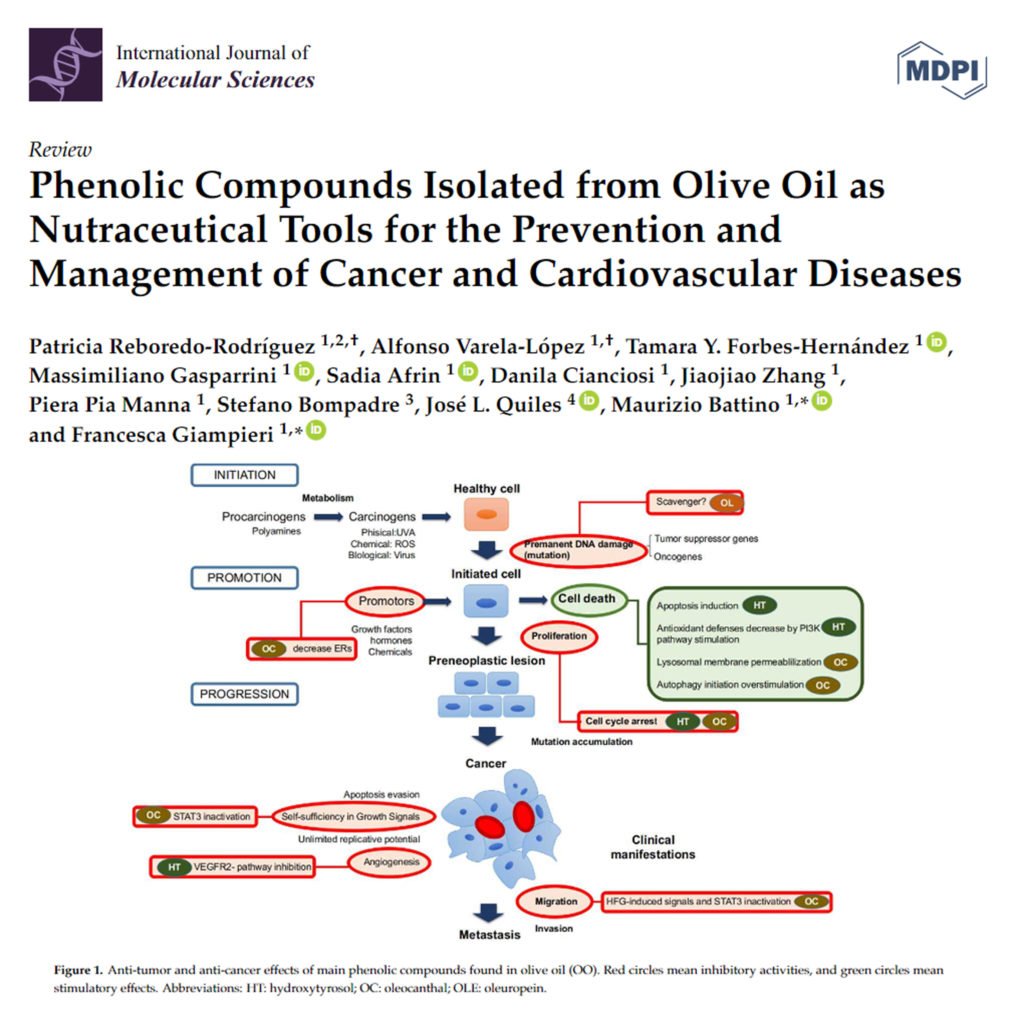 Keywords: phenolic compounds, olive oil, nutraceuticals, prevention and management of cancer and cardiovascular diseases, non-communicable diseases, Mediterranean diet, virgin olive oil.
---
Join for free INPST as a member
The International Natural Product Sciences Taskforce (INPST) maintains up-to-date lists with conferences, grants and funding opportunities, jobs and open positions, and journal special issues with relevance for the area of phytochemistry and food chemistry, pharmacology, pharmacognosy research, and natural product science.