Abstract
The high mortality associated with oncological diseases is mostly due to tumors in advanced stages, and their management is a major challenge in modern oncology. Angiogenesis is a defined hallmark of cancer and predisposes to metastatic invasion and dissemination and is therefore an important druggable target for cancer drug discovery. Recently, because of drug resistance and poor prognosis, new anticancer drugs from natural sources targeting tumor vessels have attracted more attention and have been used in several randomized and controlled clinical trials as therapeutic options. Here, we outline and discuss potential natural compounds as salvage treatment for advanced cancers from recent and ongoing clinical trials and real-world studies. We also discuss predictive biomarkers for patients' selection to optimize the use of these potential anticancer drugs.
Full text access
El Bairi K, Amrani M, Afqir S. Cancer Med. 2018 May 6. doi: 10.1002/cam4.1467. Review. PubMed PMID: 29732738.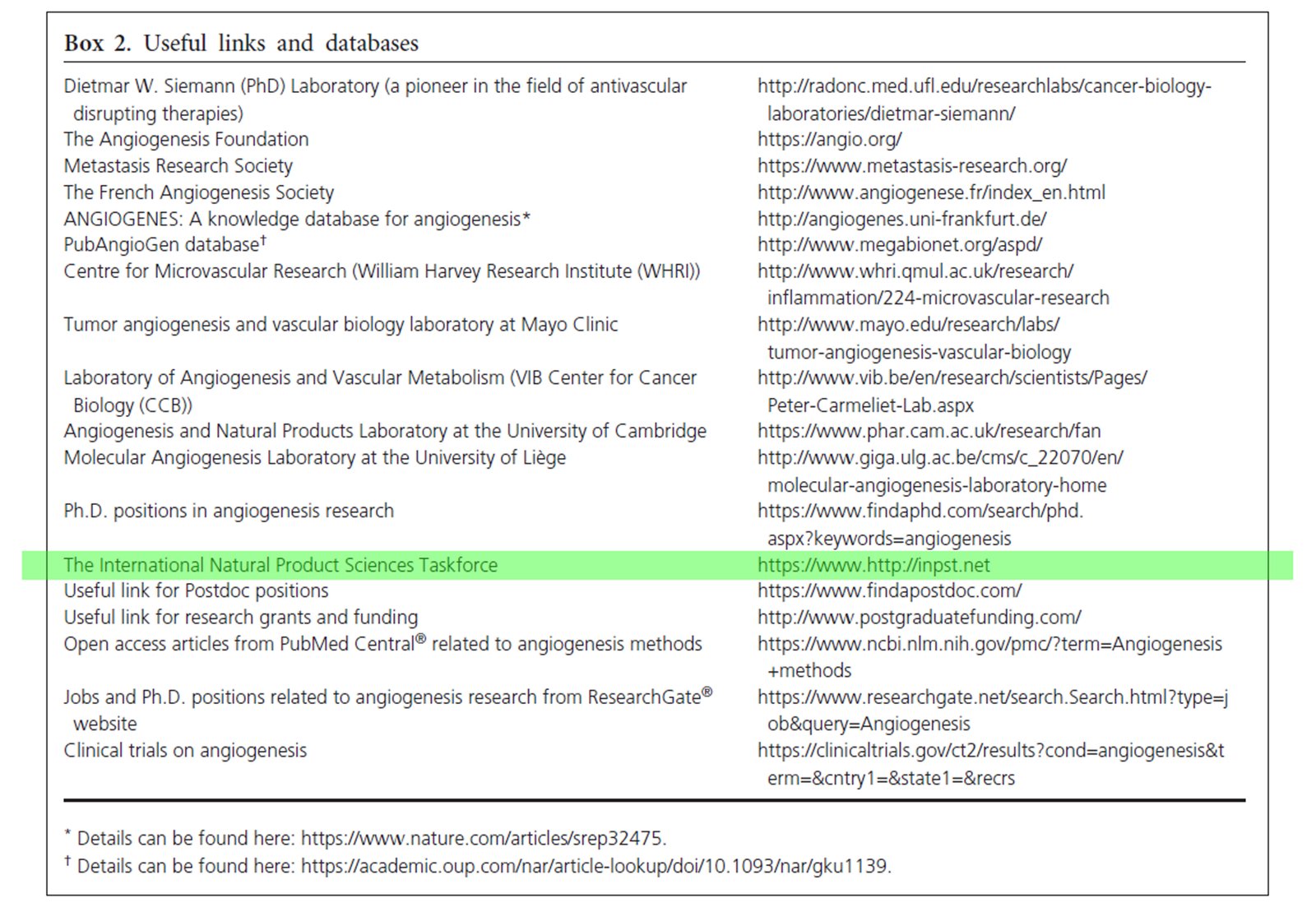 Keywords: advanced cancer; angiogenesis; clinical trials; drug discovery; natural compounds; starvation tactics using natural compounds; pharmacodynamics; clinical efficacy; predictive biomarkers; vascular disrupting agents.
Join for free INPST as a member
The International Natural Product Sciences Taskforce (INPST) maintains up-to-date lists with conferences, grants and funding opportunities, jobs and open positions, and journal special issues with relevance for the area of phytochemistry and food chemistry, pharmacology, pharmacognosy research, and natural product science.
Apply for the INPST 2018 Science Communication Award (Gold: 2000 USD / Silver: 1000 USD / Bronze: 500 USD)