Lefranc F, Tabanca N, Kiss R. Assessing the anticancer effects associated with food products and/or nutraceuticals using in vitro and in vivo preclinical development-related pharmacological tests. Semin Cancer Biol. 2017 Oct;46:14-32. doi: 10.1016/j.semcancer.2017.06.004.
Correia-da-Silva M, Sousa E, Pinto MMM, Kijjoa A. Anticancer and cancer preventive compounds from edible marine organisms. Semin Cancer Biol. 2017 Oct;46:55-64. doi: 10.1016/j.semcancer.2017.03.011.
Efferth T. From ancient herb to modern drug: Artemisia annua and artemisinin for cancer therapy. Semin Cancer Biol. 2017 Oct;46:65-83. doi: 10.1016/j.semcancer.2017.02.009.
Pandima Devi K, Rajavel T, Daglia M, Nabavi SF, Bishayee A, Nabavi SM. Targeting miRNAs by polyphenols: Novel therapeutic strategy for cancer. Semin Cancer Biol. 2017 Oct;46:146-157. doi: 10.1016/j.semcancer.2017.02.001.
Marinelli L, Tenore GC, Novellino E. Probiotic species in the modulation of the anticancer immune response. Semin Cancer Biol. 2017 Oct;46:182-190. doi: 10.1016/j.semcancer.2017.08.007.
Seidel DV, Azcárate-Peril MA, Chapkin RS, Turner ND. Shaping functional gut microbiota using dietary bioactives to reduce colon cancer risk. Semin Cancer Biol. 2017 Oct;46:191-204. doi: 10.1016/j.semcancer.2017.06.009.
Bonferoni MC, Rossi S, Sandri G, Ferrari F. Nanoparticle formulations to enhance tumor targeting of poorly soluble polyphenols with potential anticancer properties. Semin Cancer Biol. 2017 Oct;46:205-214. doi: 10.1016/j.semcancer.2017.06.010.
McClements DJ, Xiao H. Designing food structure and composition to enhance nutraceutical bioactivity to support cancer inhibition. Semin Cancer Biol. 2017 Oct;46:215-226. doi: 10.1016/j.semcancer.2017.06.003.
Bule P, Cameron K, Prates JAM, Ferreira LMA, Smith SP, Gilbert HJ, Bayer EA, Najmudin S, Fontes CMGA, Alves VD. Structure-function analyses generate novel specificities to assemble the components of multi-enzyme bacterial cellulosome complexes. J Biol Chem. 2018 Jan 24. pii: jbc.RA117.001241. doi: 10.1074/jbc.RA117.001241.
Shanmuganathan B, Suryanarayanan V, Sathya S, Narenkumar M, Singh SK, Ruckmani K, Pandima Devi K. Anti-amyloidogenic and anti-apoptotic effect of α-bisabolol against Aβ induced neurotoxicity in PC12 cells. Eur J Med Chem. 2018 Jan 1;143:1196-1207. doi: 10.1016/j.ejmech.2017.10.017.
Sahebkar A, Panahi Y, Khalili N, Sahebi E, Namazi S, Atkin SL, Majeed M. Curcuminoids plus piperine modulate adipokines in type 2 diabetes mellitus. Curr Clin Pharmacol. 2018 Jan 3. doi: 10.2174/1574884713666180104095641.
Bolger GT, Licollari A, Tan A, Greil R, Pleyer L, Vcelar B, Majeed M, Sordillo P. Distribution of Curcumin and THC in Peripheral Blood Mononuclear Cells Isolated from Healthy Individuals and Patients with Chronic Lymphocytic Leukemia. Anticancer Res. 2018 Jan;38(1):121-130. PubMed PMID: 29277764.
Soflaei SS, Momtazi AA, Majeed M, Derosa G, Maffioli P, Sahebkar A. Curcumin: a natural pan-HDAC inhibitor in cancer. Curr Pharm Des. 2017 Nov 14. doi: 10.2174/1381612823666171114165051.
Dinkova-Kostova AT, Kostov RV, Kazantsev AG. The role of Nrf2 signaling in counteracting neurodegenerative diseases. FEBS J. 2018 Jan 11. doi: 10.1111/febs.14379.
Kalin JH, Wu M, Gomez AV, Song Y, Das J, Hayward D, Adejola N, Wu M, Panova I, Chung HJ, Kim E, Roberts HJ, Roberts JM, Prusevich P, Jeliazkov JR, Roy Burman SS, Fairall L, Milano C, Eroglu A, Proby CM, Dinkova-Kostova AT, Hancock WW, Gray JJ, Bradner JE, Valente S, Mai A, Anders NM, Rudek MA, Hu Y, Ryu B, Schwabe JWR, Mattevi A, Alani RM, Cole PA. Targeting the CoREST complex with dual histone deacetylase and demethylase inhibitors. Nat Commun. 2018 Jan 4;9(1):53. doi: 10.1038/s41467-017-02242-4.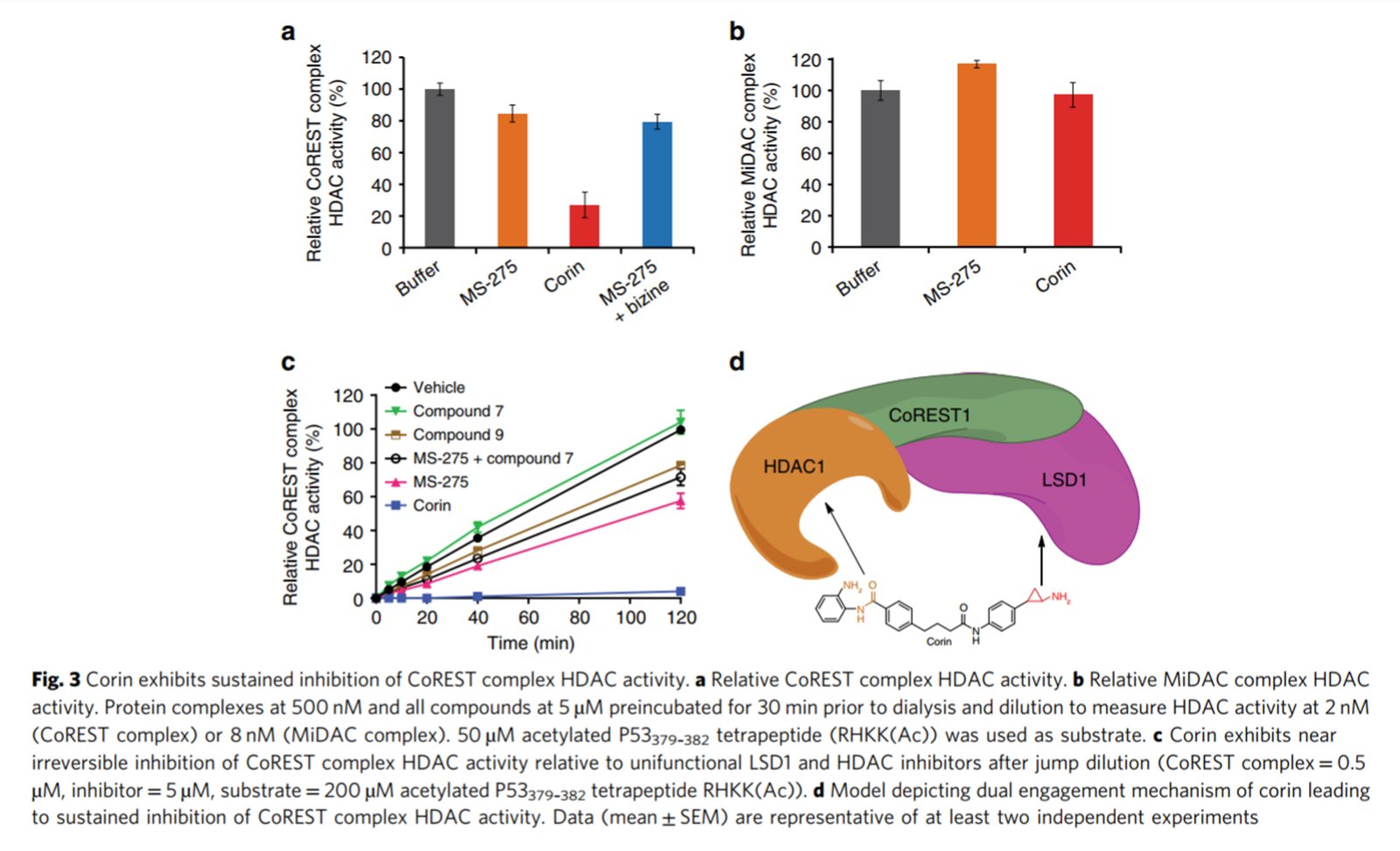 Sureda A, Capó X, Busquets-Cortés C, Tejada S. Acute exposure to sunscreen containing titanium induces an adaptive response and oxidative stress in Mytillus galloprovincialis. Ecotoxicol Environ Saf. 2018 Mar;149:58-63. doi: 10.1016/j.ecoenv.2017.11.014.
Nabavi SM, Nabavi SF, Sureda A, Caprioli G, Iannarelli R, Sokeng AJT, Braidy N, Khanjani S, Moghaddam AH, Atanasov AG, Daglia M, Maggi F. The water extract of tutsan (Hypericum androsaemum L.) red berries exerts antidepressive-like effects and in vivo antioxidant activity in a mouse model of post-stroke depression. Biomed Pharmacother. 2018 Jan 16;99:290-298. doi: 10.1016/j.biopha.2018.01.073.
Sureda A, Bibiloni MDM, Julibert A, Bouzas C, Argelich E, Llompart I, Pons A, Tur JA. Adherence to the Mediterranean Diet and Inflammatory Markers. Nutrients. 2018 Jan 10;10(1). pii: E62. doi: 10.3390/nu10010062.
Filipek PA, de Araujo MEG, Vogel GF, De Smet CH, Eberharter D, Rebsamen M, Rudashevskaya EL, Kremser L, Yordanov T, Tschaikner P, Fürnrohr BG, Lechner S, Dunzendorfer-Matt T, Scheffzek K, Bennett KL, Superti-Furga G, Lindner HH, Stasyk T, Huber LA. LAMTOR/Ragulator is a negative regulator of Arl8b- and BORC-dependent late endosomal positioning. J Cell Biol. 2017 Dec 4;216(12):4199-4215. doi: 10.1083/jcb.201703061.
de Araujo MEG, Naschberger A, Fürnrohr BG, Stasyk T, Dunzendorfer-Matt T, Lechner S, Welti S, Kremser L, Shivalingaiah G, Offterdinger M, Lindner HH, Huber LA, Scheffzek K. Crystal structure of the human lysosomal mTORC1 scaffold complex and its impact on signaling. Science. 2017 Oct 20;358(6361):377-381. doi: 10.1126/science.aao1583.
Vogel GF, van Rijn JM, Krainer IM, Janecke AR, Posovzsky C, Cohen M, Searle C, Jantchou P, Escher JC, Patey N, Cutz E, Müller T, Middendorp S, Hess MW, Huber LA. Disrupted apical exocytosis of cargo vesicles causes enteropathy in FHL5 patients with Munc18-2 mutations. JCI Insight. 2017 Jul 20;2(14). pii: 94564. doi: 10.1172/jci.insight.94564.
Coassin S, Erhart G, Weissensteiner H, Eca Guimarães de Araújo M, Lamina C, Schönherr S, Forer L, Haun M, Losso JL, Köttgen A, Schmidt K, Utermann G, Peters A, Gieger C, Strauch K, Finkenstedt A, Bale R, Zoller H, Paulweber B, Eckardt KU, Hüttenhofer A, Huber LA, Kronenberg F. A novel but frequent variant in LPA KIV-2 is associated with a pronounced Lp(a) and cardiovascular risk reduction. Eur Heart J. 2017 Jun 14;38(23):1823-1831. doi: 10.1093/eurheartj/ehx174.
Asjad HMM, Nasrollahi-Shirazi S, Sucic S, Freissmuth M, Nanoff C. Relax, Cool Down and Scaffold: How to Restore Surface Expression of Folding-Deficient Mutant GPCRs and SLC6 Transporters. Int J Mol Sci. 2017 Nov 14;18(11). pii: E2416. doi: 10.3390/ijms18112416.
Freissmuth M, Stockner T, Sucic S. SLC6 Transporter Folding Diseases and Pharmacochaperoning. Handb Exp Pharmacol. 2017 Oct 31. doi: 10.1007/164_2017_71.
Kasture A, Stockner T, Freissmuth M, Sucic S. An unfolding story: Small molecules remedy misfolded monoamine transporters. Int J Biochem Cell Biol. 2017 Nov;92:1-5. doi: 10.1016/j.biocel.2017.09.004.
Yang Q, Puhm F, Freissmuth M, Nanoff C. Hyponatremia and V2 vasopressin receptor upregulation: a result of HSP90 inhibition. Cancer Chemother Pharmacol. 2017 Oct;80(4):673-684. doi: 10.1007/s00280-017-3390-x.
Zengin G, Abdallah HH, Dogan A, Mollica A, Aumeeruddy-Elalfi Z, Mahomoodally MF. Phenolic components and assessment of biological properties of Tchihatchewia isatidea Boiss. extracts: Docking and functional approaches for designing novel products. Food Chem Toxicol. 2018 Jan;111:423-431. doi: 10.1016/j.fct.2017.11.055.
Aumeeruddy MZ, Zengin G, Mahomoodally MF. A review of the traditional and modern uses of Salvadora persica L. (Miswak): Toothbrush tree of Prophet Muhammad. J Ethnopharmacol. 2018 Mar 1;213:409-444. doi: 10.1016/j.jep.2017.11.030.
Carradori S, Ortuso F, Petzer A, Bagetta D, De Monte C, Secci D, De Vita D, Guglielmi P, Zengin G, Aktumsek A, Alcaro S, Petzer JP. Design, synthesis and biochemical evaluation of novel multi-target inhibitors as potential anti-Parkinson agents. Eur J Med Chem. 2018 Jan 1;143:1543-1552. doi: 10.1016/j.ejmech.2017.10.050.
Rinaldi F, Hanieh PN, Longhi C, Carradori S, Secci D, Zengin G, Ammendolia MG, Mattia E, Del Favero E, Marianecci C, Carafa M. Neem oil nanoemulsions: characterisation and antioxidant activity. J Enzyme Inhib Med Chem. 2017 Dec;32(1):1265-1273. doi: 10.1080/14756366.2017.1378190.
Şeker Karatoprak G, İlgün S, Koşar M. Phenolic Composition, Anti-Inflammatory, Antioxidant, and Antimicrobial Activities of Alchemilla mollis (Buser) Rothm. Chem Biodivers. 2017 Sep;14(9). doi: 10.1002/cbdv.201700150.
Şeker Karatoprak G, Göger F, Yerer MB, Koşar M. Chemical composition and biological investigation of Pelargonium endlicherianum root extracts. Pharm Biol. 2017 Dec;55(1):1608-1618. doi: 10.1080/13880209.2017.1314511.
Şeker Karatoprak G, Aydin G, Altinsoy B, Altinkaynak C, Koşar M, Ocsoy I. The Effect of Pelargonium endlicherianum Fenzl. root extracts on formation of nanoparticles and their antimicrobial activities. Enzyme Microb Technol. 2017 Feb;97:21-26. doi: 10.1016/j.enzmictec.2016.10.019.
Satish L, Santhakumari S, Gowrishankar S, Pandian SK, Ravi AV, Ramesh M. Rapid biosynthesized AgNPs from Gelidiella acerosa aqueous extract mitigates quorum sensing mediated biofilm formation of Vibrio species-an in vitro and in vivo approach. Environ Sci Pollut Res Int. 2017 Dec;24(35):27254-27268. doi: 10.1007/s11356-017-0296-4.
Gowrishankar S, Pandian SK. Modulation of Staphylococcus epidermidis (RP62A) extracellular polymeric layer by marine cyclic dipeptide-cyclo(l-leucyl-l-prolyl) thwarts biofilm formation. Biochim Biophys Acta. 2017 Jul;1859(7):1254-1262. doi: 10.1016/j.bbamem.2017.04.009.
Hori K, Wada M, Yahara S, Watanabe T, Devkota HP. Antioxidant phenolic compounds from the rhizomes of Astilbe rivularis. Nat Prod Res. 2018 Feb;32(4):453-456. doi: 10.1080/14786419.2017.1309536.
Khan H, Amin S, Patel S. Targeting BDNF modulation by plant glycosides as a novel therapeutic strategy in the treatment of depression. Life Sci. 2018 Jan 13. pii: S0024-3205(18)30019-5. doi: 10.1016/j.lfs.2018.01.013.
Khan H, Pervaiz A, Kamal MA, Patel S. Antiplatelet potential of plant-derived glycosides as possible lead compounds. Curr Drug Metab. 2017 Dec 27. doi: 10.2174/1389200219666171227204552.
Khan H, Nabavi SM, Sureda A, Mehterov N, Gulei D, Berindan-Neagoe I, Taniguchi H, Atanasov AG. Therapeutic potential of songorine, a diterpenoid alkaloid of the genus Aconitum. Eur J Med Chem. 2017 Nov 10. pii: S0223-5234(17)30867-X. doi: 10.1016/j.ejmech.2017.10.065.
Patel S, Rauf A, Khan H. The relevance of folkloric usage of plant galls as medicines: Finding the scientific rationale. Biomed Pharmacother. 2018 Jan;97:240-247. doi: 10.1016/j.biopha.2017.10.111.
The INPST publication update list is assambled by Dr. Kannan RR Rengasamy.
Join for free INPST as a member
The International Natural Product Sciences Taskforce (INPST) maintains up-to-date lists with conferences, grants and funding opportunities, jobs and open positions, and journal special issues with relevance for the area of phytochemistry and food chemistry, pharmacology, pharmacognosy research, and natural product science.
Apply for the INPST 2018 Science Communication Award (Gold: 2000 USD / Silver: 1000 USD / Bronze: 500 USD)