Abstract
SCOPE: Aberrant vascular smooth muscle cell (VSMC) proliferation is involved in atherosclerotic plaque formation and restenosis. Mediterranean spices have been reported to confer cardioprotection, but their direct influence on VSMCs has largely not been investigated. This study aims at examining rosmarinic acid (RA) and 11 related constituents for inhibition of VSMC proliferation in vitro, and at characterizing the most promising compound for their mode of action and influence on neointima formation in vivo.
METHODS AND RESULTS: RA, rosmarinic acid methyl ester (RAME), and caffeic acid methyl ester inhibit VSMC proliferation in a resazurin conversion assay with IC50 s of 5.79, 3.12, and 6.78 µm, respectively. RAME significantly reduced neointima formation in vivo in a mouse femoral artery cuff model. Accordingly, RAME leads to an accumulation of VSMCs in the G0 /G1 cell-cycle phase, as indicated by blunted retinoblastoma protein phosphorylation upon mitogen stimulation and inhibition of cyclin-dependent kinase 2 in vitro.
CONCLUSION: RAME represses PDGF-induced VSMC proliferation in vitro and reduces neointima formation in vivo. These results recommend RAME as an interesting compound with VSMC-inhibiting potential. Future metabolism and pharmacokinetics studies might help to further evaluate the potential relevance of RAME and other spice-derived polyphenolics for vasoprotection.
Full text access
Liu R, Heiss EH, Waltenberger B, Blažević T, Schachner D, Jiang B, Krystof V, Liu W, Schwaiger S, Peña-Rodríguez LM, Breuss JM, Stuppner H, Dirsch VM, Atanasov AG. Mol Nutr Food Res. 2018 Feb 5:e1700860. doi: 10.1002/mnfr.201700860. PubMed PMID: 29405576.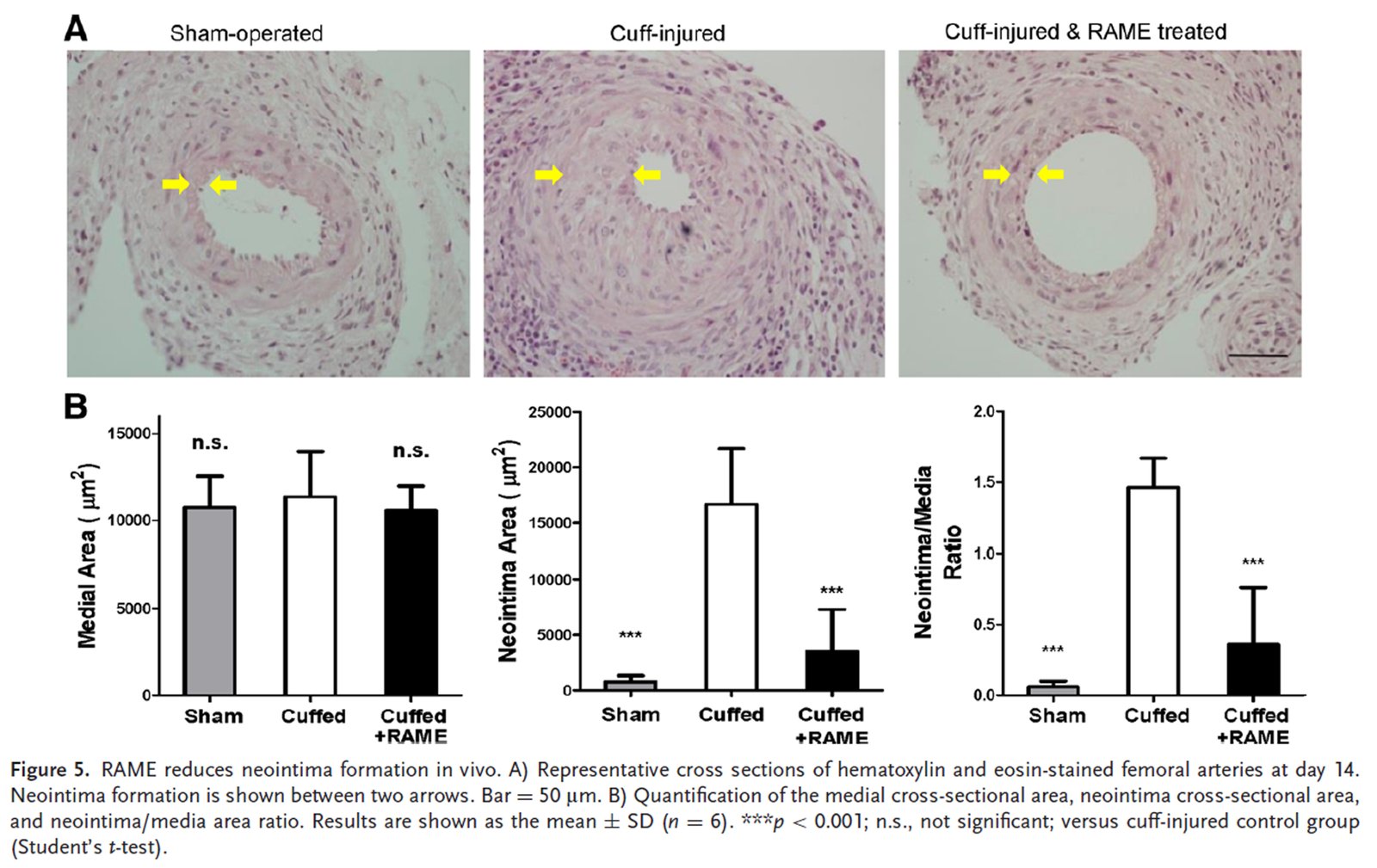 Keywords: Mediterranean spices; neointima formation; rosmarinic acid; rosmarinic acid methyl ester; Mediterranean spices bioactivities; vascular smooth muscle cells, cell proliferation; cyclin-dependent kinase 2; rosmarinic acid methyl ester as inhibitor of vascular smooth muscle cell proliferation.
Join for free INPST as a member
The International Natural Product Sciences Taskforce (INPST) maintains up-to-date lists with conferences, grants and funding opportunities, jobs and open positions, and journal special issues with relevance for the area of phytochemistry and food chemistry, pharmacology, pharmacognosy research, and natural product science.
Apply for the INPST 2018 Science Communication Award (Gold: 2000 USD / Silver: 1000 USD / Bronze: 500 USD)