By Dongdong Wang*
Contribution participating in the INPST 2018 Science Communication Awards contest.
Together with my academic associates, recently I have systematically reviewed the scientific research linking pomegranate intake with cardiovascular benefits in consumers and patients [Ref. 1]. Here I will briefly present some highlights and major findings from our analysis of the existing scientific literature on this topic.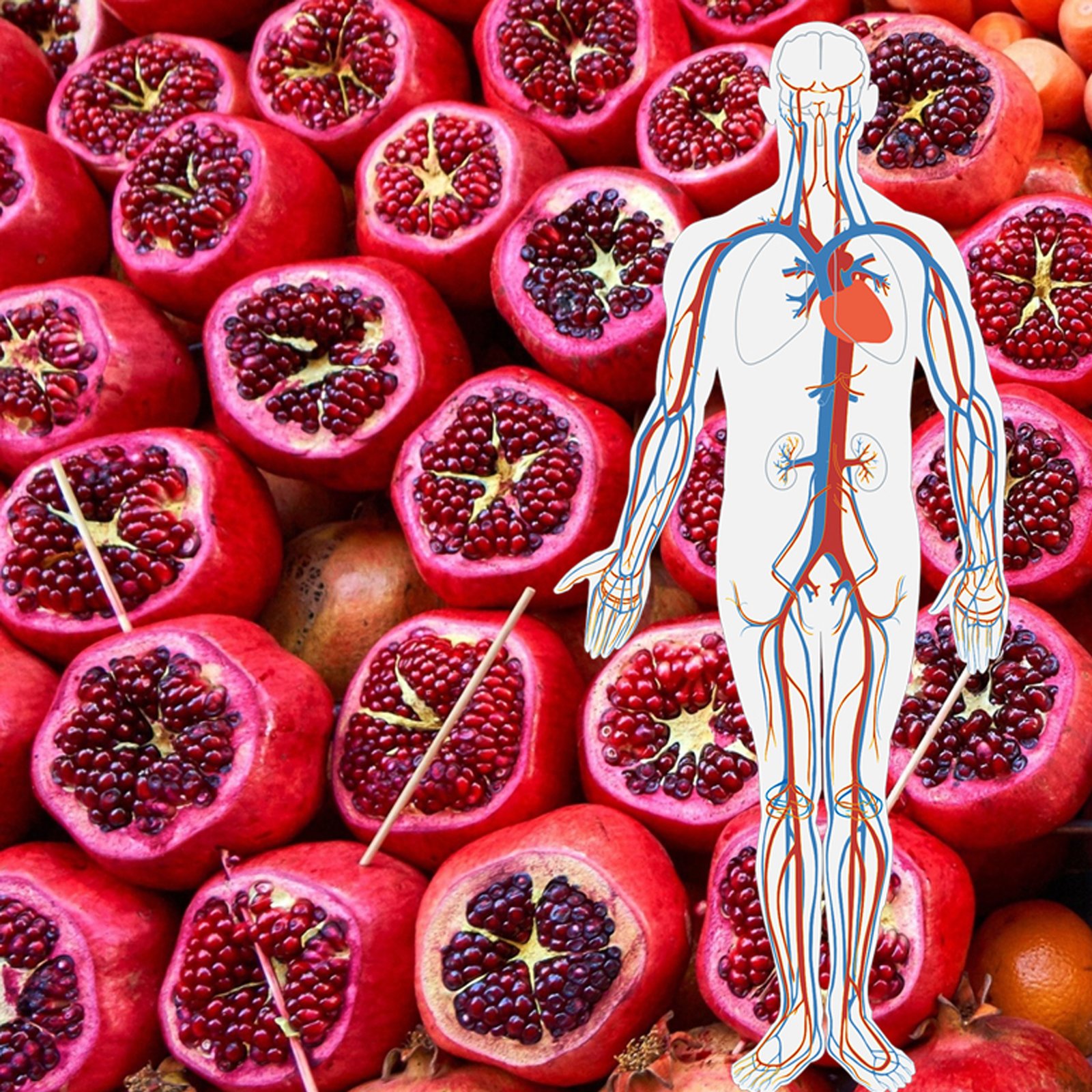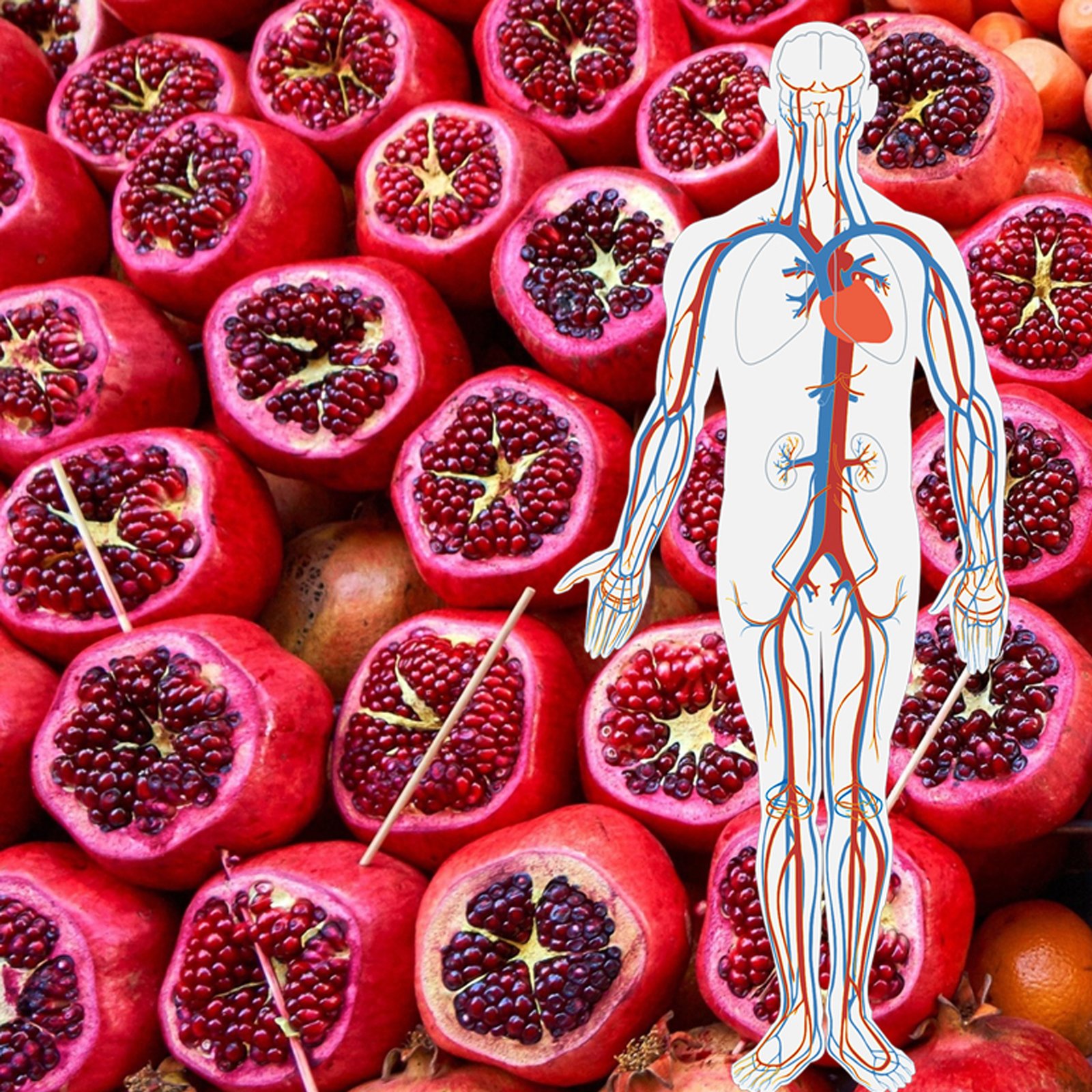 Cardiovascular diseases
Cardiovascular diseases are the major cause of death in humans [Ref. 2]. Due to this, the establishment of dietary modifications (for example, involving the use of pomegranates or pomegranate-derived products) that can combat cardiovascular diseases will have a major beneficial effect on human health, longevity, and the society as a whole.
Pre-clinical research on vasculoprotective effects of pomegranate
Pomegranate is a fruit with a long history of use as a food and medicine from ancient times, in particular in Central Asia, India, the Mediterranean area, and in the Middle East. It has been highly valued by different societies such as the Romans and in Ancient Egypt, and is highlighted to have symbolic importance in different religions, including Buddhism, Christianity, Islam, Zoroastrianism, and Judaism. Thus, for example in Ancient Egypt pomegranate was painted on walls and tombs to symbolize life after death, and it was praised by the Old Testament of the Bible as "a sacred fruit conferring powers of fertility, abundance, and good luck".
Preclinical research done so far points out a range of protective effects of pomegranate on the cardiovascular system, such as reduction of oxidative stress and platelet aggregation, positive influences on endothelial cell functions (mediated by increasing NO levels and lowering of blood glucose levels), anti-inflammatory effect, diminishing lipid uptake by macrophages, and impact on blood pressure regulation. Remarkably, commercial pomegranate juice was found to have three times higher antioxidant activity than other well-known beverages with antioxidative properties, such as red wine and green tea [Ref. 3]. Pomegranate fruits and seeds, as well as other parts of the plant (for example flowers, leaves, and fruit peels), have been studied in diverse pre-clinical research works, and are demonstrated to be rich in numerous bioactive compounds that are responsible for the detected biological activities. Some of the most important phytochemicals scientifically linked to the potential health benefits of pomegranate consumption are, among others, ellagic acid, hydrolyzable tannins (gallotannins and ellagitannins), as well as diverse flavonoids, anthocyanins, and proanthocyanidins.
Importantly, next to the listed vasculoprotective effects, pomegranate and its bioactive constituents are also displaying protective effects against toxicity induced by chemicals or drugs. Antibacterial, antifungal, antiproliferative, and anticancer effects are also reported. In respect to the investigated anticancer activity, in particular many studies addressed the potential protective action of pomegranate in the context of prostate cancer.
Human studies on the vasculoprotective effects of pomegranate
A number of human studies already examined the potential of pomegranate to contribute to the prevention of cardiovascular diseases. In these studies, pomegranate overall revealed to have a good safety profile, although when used for a longer period or in high amounts, certain mild side effects (such as diarrhea) might also occur.
Hypertension is a significant factor in the development of cardiovascular diseases. In patients with hypertension, daily consumption of pomegranate juice for 2 weeks reduced systolic blood pressure [Ref. 4]. The same group of researchers also reported that a longer-duration (for 3 years) intake of pomegranate juice also significantly reduced blood pressure, as well as LDL oxidation, and common carotid intima-media thickness, a measure used to quantify the extent of carotid atherosclerotic vascular disease [Ref. 5]. Three other human studies also demonstrated reduction of blood pressure upon consumption of pomegranate juice [Ref. 6; Ref. 7; Ref. 8]. In the same line, a recent meta-analysis of clinical trials also concluded that intake of pomegranate juice decreases blood pressure [Ref. 9]. On the other side, some of the human studies also examined diverse blood parameters (for example, the serum concentration of C-reactive protein, CRP) related to inflammation, which is another major contributor to atherosclerosis, and did not see significant effect of pomegranate supplementation [Ref. 7; Ref. 9]. Therefore, considering that none of the human studies examined direct disease outcomes (for example, atherosclerosis-related death rates), despite the strong evidence for anti-hypertensive effects, overall more human studies are needed before pomegranate can be unambiguously recommended as a dietary supplement to combat atherosclerosis.
Pomegranate juice was also studied in human trials in prostate cancer patients, and its consumption resulted in significant improvement in the levels of prostate-specific antigen (PSA), an important marker related to the disease progression [Ref. 10]. However, limitation of this study is also that it just examined a disease-related marker (PSA) and not direct disease outcomes, therefore, more human studies are also needed in respect of this potential therapeutic application of pomegranate.
Aside of pomegranate juice, another pomegranate-derived product that has been studied in humans in the context of cardiovascular diseases is the pomegranate peel hydroalcoholic extract, which was reported to reduce cardiovascular risk factors in obese women with dyslipidemia, in a recent double-blind, randomized, placebo-controlled pilot study [Ref. 11].
Conclusion and outlook
Pomegranate, a fruit with an ancient history of use as a food and medicine, is scientifically proven to be a rich source of diverse natural bioactive compounds.
Numerous research studies suggest pomegranate and its constituents to exhibit cardio-protective effects, such as diminishing oxidative stress, beneficially influencing the functions of macrophages, endothelial cells, and platelets, counteracting lipid oxidation, inducing vasodilatory effects, reducing blood glucose levels, as well as decreasing blood pressure. Human clinical studies support some of the cardiovascular benefits of pomegranate juice intake, with especially strong evidence of blood pressure-reducing effects. Likewise, human studies also indicate beneficial effects of pomegranate juice in prostate cancer. Despite of the overall promising data from the clinical trials performed up to now in the context of both cardiovascular diseases and prostate cancer, more human studies are needed to make unambiguous conclusions for the efficacy of pomegranate supplementation.
The overall results of the numerous scientific studies performed up to now in vitro, in animal models, and in humans, suggest that the dietary use of pomegranate might be associated with benefits for the prevention and therapy of cardiovascular diseases, including hypertension, peripheral artery disease, and coronary artery disease. Nevertheless, before further clinical trials are performed to more firmly demonstrate efficacy in patients, pomegranate can just be recommended as a complementary dietary supplement and not as a primary therapeutic tool.
References
[1] Wang D, Özen C, Abu-Reidah IM,Chigurupati S, Patra JK,Horbanczuk JO, Jó ́zwik A,Tzvetkov NT, Uhrin P andAtanasov AG (2018) VasculoprotectiveEffects of Pomegranate (Punicagranatum L.).Front. Pharmacol. 9:544.doi: 10.3389/fphar.2018.00544.
[2] Waltenberger B, Mocan A, Šmejkal K, Heiss EH, Atanasov AG. Natural Products to Counteract the Epidemic of Cardiovascular and Metabolic Disorders. Molecules. 2016 Jun 22;21(6). doi: 10.3390/molecules21060807.
[3] Gil MI, Tomás-Barberán FA, Hess-Pierce B, Holcroft DM, Kader AA. Antioxidant activity of pomegranate juice and its relationship with phenolic composition and processing. J Agric Food Chem. 2000 Oct;48(10):4581-9. PubMed PMID: 11052704.
[4] Aviram M, Dornfeld L. Pomegranate juice consumption inhibits serum angiotensin converting enzyme activity and reduces systolic blood pressure. Atherosclerosis. 2001 Sep;158(1):195-8. PubMed PMID: 11500191.
[5] Aviram M, Rosenblat M, Gaitini D, Nitecki S, Hoffman A, Dornfeld L, Volkova N, Presser D, Attias J, Liker H, Hayek T. Pomegranate juice consumption for 3 years by patients with carotid artery stenosis reduces common carotid intima-media thickness, blood pressure and LDL oxidation. Clin Nutr. 2004 Jun;23(3):423-33.
[6] Lynn A, Hamadeh H, Leung WC, Russell JM, Barker ME. Effects of pomegranate juice supplementation on pulse wave velocity and blood pressure in healthy young and middle-aged men and women. Plant Foods Hum Nutr. 2012 Sep;67(3):309-14.
[7] Asgary S, Keshvari M, Sahebkar A, Hashemi M, Rafieian-Kopaei M. Clinical investigation of the acute effects of pomegranate juice on blood pressure and endothelial function in hypertensive individuals. ARYA Atheroscler. 2013 Nov;9(6):326-31. PubMed PMID: 24575134; PubMed Central PMCID: PMC3933059.
[8] Asgary S, Sahebkar A, Afshani MR, Keshvari M, Haghjooyjavanmard S, Rafieian-Kopaei M. Clinical evaluation of blood pressure lowering, endothelial function improving, hypolipidemic and anti-inflammatory effects of pomegranate juice in hypertensive subjects. Phytother Res. 2014 Feb;28(2):193-9. doi: 10.1002/ptr.4977.
[9] Sahebkar A, Ferri C, Giorgini P, Bo S, Nachtigal P, Grassi D. Effects of pomegranate juice on blood pressure: A systematic review and meta-analysis of randomized controlled trials. Pharmacol Res. 2017 Jan;115:149-161. doi: 10.1016/j.phrs.2016.11.018.
[10] Paller CJ, Ye X, Wozniak PJ, Gillespie BK, Sieber PR, Greengold RH, Stockton BR, Hertzman BL, Efros MD, Roper RP, Liker HR, Carducci MA. A randomized phase II study of pomegranate extract for men with rising PSA following initial therapy for localized prostate cancer. Prostate Cancer Prostatic Dis. 2013 Mar;16(1):50-5. doi: 10.1038/pcan.2012.20.
[11] Haghighian MK, Rafraf M, Moghaddam A, Hemmati S, Jafarabadi MA, Gargari BP. Pomegranate (Punica granatum L.) peel hydro alcoholic extract ameliorates cardiovascular risk factors in obese women with dyslipidemia: a double blind, randomized, placebo controlled pilot study. Eur J Integr Med. 2016; 8, 676–682. doi: 10.1016/j.eujim.2016.06.010.
*Dr. Dongdong Wang is affiliated with:
1) Institute of Genetics and Animal Breeding of the Polish Academy of Sciences, ul. Postepu 36A, 05-552, Jastrzebiec, Poland.
2) Department of Pharmacognosy, University of Vienna, Althanstrasse 14, 1090, Vienna, Austria.
3) Institute of Clinical Chemistry, University Hospital Zurich, University of Zurich, Wagistrasse 14, 8952, Schlieren, Switzerland.
Keywords: pomegranate, scientific literature on pomegranate, pomegranate juice, heart health, science communication, prostate cancer, cardiovascular disease, atherosclerosis.
Join for free INPST as a member
The International Natural Product Sciences Taskforce (INPST) maintains up-to-date lists with conferences, grants and funding opportunities, jobs and open positions, and journal special issues with relevance for the area of phytochemistry and food chemistry, pharmacology, pharmacognosy research, and natural product science.
Apply for the INPST 2018 Science Communication Award (Gold: 2000 USD / Silver: 1000 USD / Bronze: 500 USD)